Wakefield, Michigan - Where Yesterday, Today and Tomorrow Meet
Come - Explore the cities vast history and its impact on America. Stay awhile and enjoy our natural beauty and tranquil environment. Discover what wondrous things lie in the future.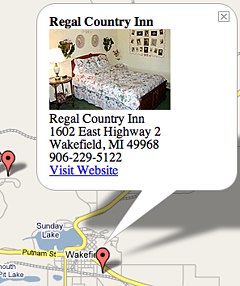 New Lodging Guide with Map
To Help You Find The Perfect Place
For Your Wakefield Vacation
Wakefield is centrally located to all the activities and events in the Western U.P.
Founded in the late 1800's as an iron ore mining town, the Wakefield area is rich in history. With mining ending around 1960 the area returned to its natural beauty of forest and water. The forest being a mix of hardwood and conifers makes a spectacular year around treat for the eye. From evergreens all decked out in there cloak of winter white to the hardwoods vivid palate of color in the fall. Add water in the form of rivers and streams, lakes in all sizes from ponds to the mighty Lake Superior, to this Mecca of timber. Throw in some small mountain ranges, with rocky terrain. A little know fact: The Huron and Porcupine mountain ranges were once higher than today's Rockies. Successive movements of the glaciers wore down these ranges. You now have some of the finest country to enjoy all that nature has to offer.
Wakefield's history, as a settlement, village and city, goes back over one hundred years. A visit to our local historical society and museum offers a glimpse into the area that helped develop and protect our country. Much of the iron ore mined in this area was used to build the railroads, ships and tanks for war and also supplied a lot men and women to fight the battles. Others went on to achieve prominence in the arts, education and business.
Winter, Spring, Summer and Fall
The four seasons each offers its own unique and spectacular attractions and activities.
Winter: Lake Superior helps bless the area with over 200 inches of snow each year. Alpine and Nordic Skiing, Snowmobiling, Snowshoeing are just a few activities. Sledding, Tubing and Sleigh Rides, along with Ice Skating. Ice fishing is another favorite winter activity on the frozen lakes. If the snow isn't too deep in the woods, a hike to the waterfalls can be quite spectacular.
Spring: The change over time of the year. A time of cool nights and warming days. Those waterfalls take on a whole different look as the rivers and streams swell from the winter snow melt and most rush to Lake Superior. A beautiful time to hike and bike our area on the many roads and trails that await exploration. Flowers, plants and trees are all starting to grow. The watchful hiker may see many of the beautiful wildflowers starting to bloom.
Summer: Wakefield's Fourth of July celebration is one not to miss. A weeklong event of food, crafts, tours, parades and fireworks. Other events like the bike tour and the National Outboard Championship races in certain years add to the things to see and do. Of course hiking, biking and exploring the shops and other scenic attractions await you. Many golf courses are located just a short drive from town.
Fall: Another change to nature. One that has been described as: "Not even in New England, are the colors of autumn more vivid and memorable than along the south shore of Lake Superior," says Kermit Holt, travel writer for the Chicago Tribune. A great time to hike, bike or drive around the area. The Porcupine Mountains State park is only a short drive from town, with many scenic vistas. Numerous well-developed trails crisscross these rugged mountains, some follow trout streams to the big lake. From the vantage points along the crest, one can watch the lake freighters as they glide across the waters of Lake Superior